Kurt


Walden
Muscle System Specialist
Kurt grew up in Danville, Indiana. He was active in sports including football, wrestling, track and baseball. His favorite sport growing up was football.  During high school he lettered three times for football and was named captain of the football team his senior year. 
Kurt then attended Indiana University in pursuit of an undergraduate degree.  During his sophomore year he started working as a Strength & Conditioning Consultant for the Indiana University Recreation and Sports Department.  While working as an S & C Consultant, he would help gym members with proper exercise form and design exercise programs for anyone interested.  One of the job requirements was to learn anatomy and structural kinesiology, which was where he developed a passion for learning about exercise and the human body.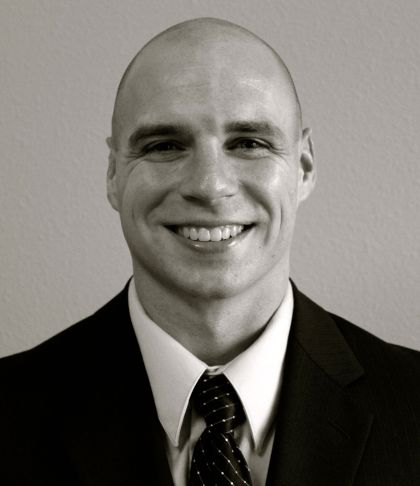 As time went on in college, Kurt wanted to learn more about the exercise industry.  To do so, he worked one year as a personal trainer and two years for the Indiana University football team.  He worked directly with the defensive line coach, Ted Dasher, during the season, and as a Student Assistant Strength Coach during the offseason.  He gained valuable experience and knowledge working as a personal trainer and strength coach.
Kurt was on his way to earning an Exercise Science degree until he read the book Friday Night Lights for his Sociology class.  After he read this book, he wanted to obtain an Education degree as well as the Exercise Science degree.  His parents were very understanding and patient with this decision and allowed him to complete an extra year of college to obtain a dual degree in Exercise Science and Physical Education. 
Kurt then completed his student teaching at Avon Middle School in Avon, Indiana.  Shortly after student teaching was finished, the Avon School Corporation offered him a job.  Kurt worked 10 years for the Avon School Corporation teaching physical education and health, as well as, coaching football, wrestling and track.  During his summer breaks, he coordinated and ran a strength & conditioning camp and also lead sports performance sessions for athletes.  He really enjoyed teaching and coaching, but after a couple of years he wanted to grow professionally, so he took night and weekend classes so he could apply to chiropractic school.  He finished all of the pre-requisite classes and was accepted into the National University of Health Sciences Chiropractic School in St. Petersburg, Florida.  There was a small delay in moving to Florida because his house would not sell, and it was during this time he was involved in a car crash that would send him to the hospital.  Suffering from a major whiplash injury, he sought help from a Muscle Activation Techniques Specialist™ (MAT) who helped him relieve pain and restore movement.  After being treated by a MAT specialist and researching it as a career, he decided to make the switch.  He then flew once a month for a year to Denver, Colorado to obtain a certification in Muscle Activation Techniques™, and started his own business in January of 2013. 
During the MAT educational process, he met Greg Mack of Physicians Fitness and Tom Purvis of the Resistance Training Specialist Program.  These two individuals totally changed Kurt's perspective of exercise and have made a tremendous impact on his fitness career.  He then pursued certifications from the Muscle System Specialist™ program and the Resistance Training Specialist™ program.  In January of 2014 he received a Resistance Training Specialist™ certification and in February of 2019 he received a Muscles System Specialist™ certification.  His mission is to get as many people as possible to participate in customized exercise programs, and to provide muscle system care to individuals who don't move and feel well so they can live a better quality of life.  Helping people move and feel better, so they can live better, is his goal! 
In his free time, Kurt loves spending time with his wife, Rachael, and kids, Callie and Colt.  He also enjoys traveling, exercising, watching sporting events, and playing ping pong and golf.
Frequently Asked Questions
Testimonials
"I have enjoyed a professional relationship with Kurt for five years, and I truly believe that without his care and treatment skill, I would be unable to perform basic activities that allow me to live the life I want.  Most of our work has been on a foot/ankle that lost range of motion and became painfully stiff over the last few years of my nursing career.  I honestly dreaded getting up in the morning and putting weight on my foot.  Kurt's treatments have enabled me to prevent surgery and to ditch a brace/orthotic that I was wearing.  I now comfortably keep active as I desire and trust Kurt's knowledge and skill to keep me moving comfortably well into my senior years!"
---
After years of being in pain, medications that weren't helping, ten surgeries, and countless attempts at different modalities, I thought I would never be able bodied again.  And then I found Kurt…what a Godsend.  He took the time to understand my issues, assessed me from head to toe and began to treat, or you could say "fix," me. 

He was so upfront and honest about the expectations, and then proceeded to blow them away.  Over three years later I still see him religiously and will never stop, because with his continued help I feel the best I have in over 20 years!  I have referred many friends and family who say the same thing. 

What he does is so different than other professionals I have seen, and I am always amazed at the results.  You will move and feel better after the very first session. 

If you are in pain, considering a surgery, want to feel better or just simply want your body to be at its peak performance you will not be let down.  See Kurt today!